International CPC-Star!
He Passed!
Kelly Hughes, general manager of our Outbase facility in Clyst St Mary, Near Exeter, recently undertook an intense two-week training course for his International Transport Manager CPC.
When we say the course is intense, we mean it. The qualification covers a vast amount of information from Transport Legislation to European arterial routes and all sorts in between. At the end of the course there are two grueling exams to pass, one with the results issued almost immediately, the other taking up to 8 weeks to be marked.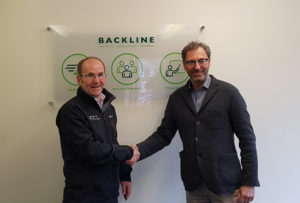 Snow Chance
Mother nature was working against Kelly – he was unable to attend two of the 10 days the course was running due to the "Beast from the East" causing havoc on the regions roads.
However, despite missing out on 20% of the input, he fought through and still managed to meet the required standard to be issued with the award.
Doubling Up
With Julian White, Chief Operating Officer, already the holder of the International CPC, this increases the number of qualified Transport Managers within Backline to two – further demonstrating our commitment to maintaining expertise in our industry.
We asked Kelly about his experience on the course. He told us:
"this is a real achievement for me…I wasn't totally confident, particularly missing out on two of the days' training. The 7 week wait for the results was a bit of a nightmare, but it was great to get them on a Saturday and needless to say, I celebrated!"
The Backline team would like to offer Kelly a massive CONGRATULATIONS! on the pass, and look forward to him taking the Outbase facility to the next level.
Find Out More
Curious about what our Outbase facility does, or could do for your business? Click here to find out more.