Flying the Flag for Female Truck Drivers

The haulage industry is traditionally seen as a male dominated industry and the figures speak for themselves. Out of the 315,000 registered truck drivers in the UK, only 2,200 are female and only 1% are HGV drivers.

However, this is starting to change and at Backline we're proud of the female truck drivers we work with who have built solid relationships with our clients and deliver outstanding service.

We recently caught up with one of our female truck drivers, Nicky Ryder who has been working with us now for nearly five years.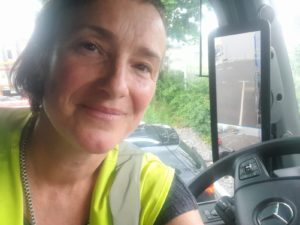 Hey Nicky! What made you follow the path of becoming a trucker?

I spent my late teens, 20s and early 30s travelling and moving around, so I spent a lot of time driving big vehicles. I even converted a 1960s bus and drove it down to Spain and through Portugal and loved the freedom that came with it.

When you're driving alone you get time to think, you can listen to music, listen to audio books and get transported to another world. It gives you headspace that you wouldn't get working in an office with other people.

You've been driving for Backline since 2017, but what did you do before that?
I've always been self-employed and hands-on with the work that I've done, whether that's growing flowers, working on farms or domestic work. I've always enjoyed being a lone worker and as a single parent it's nice to enjoy the peace and quiet!

How did you make the leap from your previous job to becoming a driver?
Driving is something I'd always enjoyed and had experience in driving larger vehicles, so it made sense to turn those skills into a job that would bring me joy and pay the bills!

The driving aspect has always been the easy part for me, even though I can be driving massive vehicles pulling heavy loads. Walking into an office or a canteen full of people that I don't know is another thing entirely – it's a big deal for me and puts me outside of my comfort zone.

What would you say is the most challenging part of agency work?
Walking into the cabin or the office for the first time is always really daunting. They don't know who you are and you worry that they have preconceived ideas on my performance ability because I'm a woman.

Then there's hanging out with the other drivers and getting to know them too. Being welcomed into any tight-knit family can feel overwhelming, but the team at Backline are great and some of the other drivers are now good friends of mine too.

As one of our female truck drivers, what do you think stops women pursuing a career as a truck driver?
The flexibility, 100%, especially if you're employed to work for a business rather than through an agency. Trucking jobs can often involve long journeys and long working hours, which doesn't allow you to do the school run, or cook a meal for your kids every evening, or put them to bed.

When you have a family you have a duty to provide for your kids and care for them. Historically the woman is the caregiver, so she's often the one sacrificing her career to raise her family. Or, like me, you're a single Mum and need to be available at the drop of a hat.

That's why I've stayed with Backline for so long, because there's an open and honest understanding that things happen and life can get in the way.

You're celebrating your five year anniversary with Backline in January 2022, why have you stayed with us for so long?
You're very family-oriented and understand when things come up that can't be avoided. As well as raising my kids, my Dad has recently been diagnosed with Dementia, so I'm also having to be there with him and for him at any given moment.

I know that I can take the time that I need to be with him, or the kids, and still have a job to go back to. It's really refreshing and helps create stability in an otherwise unstable situation.

Backline also don't put any pressure on us to come into work if we're not feeling 100%. They really do care for their drivers and know that health and safety is more important than getting stuff done that's sub-standard.

What do you most love about working with Backline?
The variety. And being able to pick and choose what I want to do! At 47 years old I'm getting on a bit now, so I prefer the hydraulic jobs. I don't want to be manually lifting pallets and moving heavy objects.

I'm taking my HGV1 test next week so having access to the bigger trucks at work means that I can sneak in some practise!

You've mentioned that you have kids – do they think it's cool that their Mum's a trucker?
Yeah. I suppose so. Life has definitely been more settled since I've been working with Backline. Before that I was dragging them to jobs with me, or taking them to farmer's markets on the weekend. It wasn't much fun for them to be honest.

Agency work is definitely easier than running your own business – you don't have to promote it or worry about where the next paycheck is coming from. You can turn up, get your job done and go home.

Finally, Nicky, what do you think will encourage more women to take up trucking?
The flexibility is a huge plus, especially if you work with an agency like Backline, who can provide you with flexible working hours. There's also no such thing as the gender pay gap, so men and women are paid equally – something that's very rare in a lot of other industries.

And then finally – the peace and quiet that you get while driving is divine! When you've got kids at home and you're used to being part of a busy, noisy household you treasure the time you get to yourself.

Thanks Nicky for such an insightful chat.

If you feel like you could be one of our next female truck drivers, or know someone who may be interested in joining our diverse and flexible team, then contact us